Welcome to Fairytale Fallout!
Hey there guest, and welcome to our forums! You can choose to join our community by clicking the register button below. This opens the ability to talk with other members, discuss your favourite topics and more!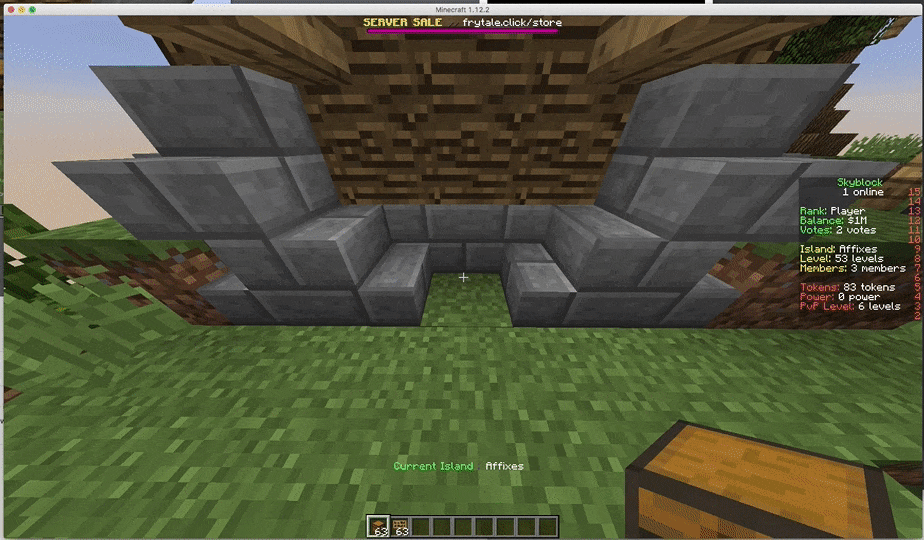 Hey everyone,

Thanks to a
suggestion
from
@Fear
, we've now added the option of creating a Sell Chest on our Skyblock and Survival Servers! Creating one of these chests is super easy, and allows you to quickly sell applicable items that are in your chest to the server store.
To create a Sell Chest, all you need to do is place down a chest and attach a sign to it with the text "
[SellChest]
" written on its first line. The system will then automatically recognise your container and turn it into a Sell Chest! Every item that can be sold on the server /shop, can also be sold through the sell sign.
In case you want to sell the items in your chest to the store, all you'll have to do is right click! The text on the sign should then update, letting you know the items have been sold! There is a cooldown of 10 seconds, in which you won't be able to use the Sell Sign again....
Hey Everyone,

This is just a quick announcement to let you know that our staff applications are back open! We are actively looking for new members to join our team - so this is your chance to shine if you've ever wanted to go that extra mile to help our server!
You may submit an application by filling out the form posted
here
.
Please make sure that you read the requirements
before
posting. These are available
here
.
Furthermore, we'd like to announce the following promotions:
Congratulations everyone!
That's it for...
Hey guys,

We are constantly trying to improve upon the Fairytale Fallout experience! As we're figuring out what's the next for the server's roadmap, today we have a short poll for you with the question:

What gamemode would you like to see on Fairytale Fallout?
Factions
Prison
KitPvP
Skywars
Let us know your vote:
http://www.strawpoll.me/15099659
Are we missing anything? Let us know in the comments below!
Today is also the
last day
that you can use our
85% OFF Valentine's Day SALE!
Be sure to pick up on anything that you haven't purchased yet before the prices go up again!
Thanks,
Jesse

Happy Valentine's Day!

It's that time of the year again for the special kinda' feeling! We've got a small, but a romantically themed update for you guys today to accommodate all of your Fairytale Valentine's wishes! This update also includes one of your most heavily requested features, so let's jump right into it...
Valentine's Day Sale
Our Valentine's Day Sale is now
LIVE!
For a limited time only, you'll be able to grab some of favourite store items for an astonishing
85% OFF
. This promotion works on all of the items that are listed on our store, and will expire this
Sunday
. If you've been waiting to pickup that rank, there wouldn't be a better time!
Click here to visit the store!
Valentine's Day Special
This time again we are also releasing a set of unique Valentine's items, packed together in a "Special". Specials are available for a limited-time only, but can be used on the server...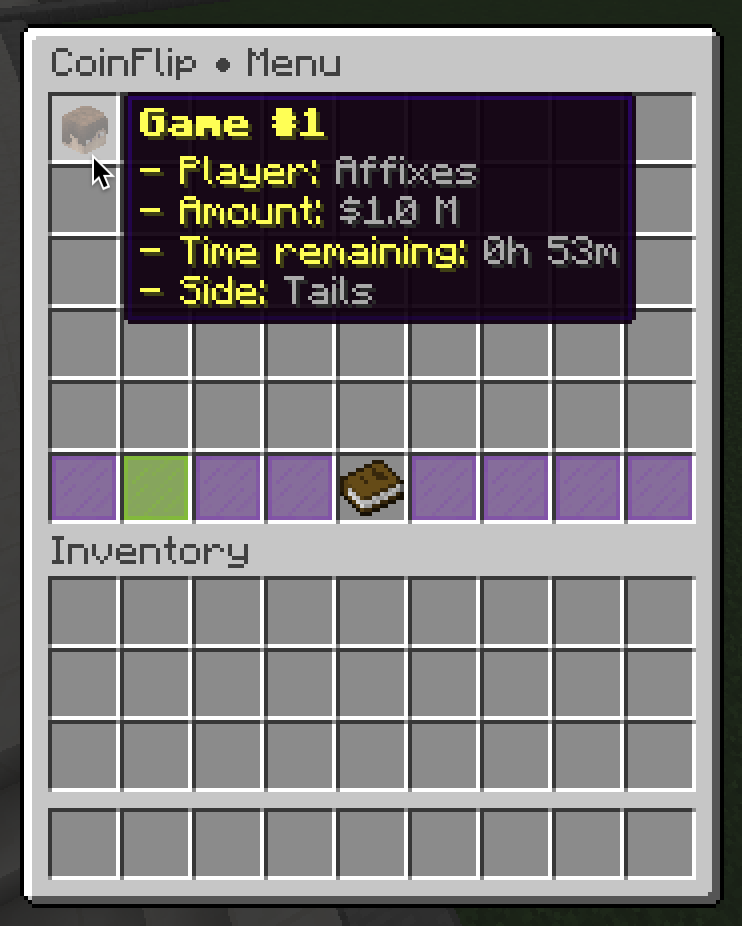 Hey everyone!
It's been a while since you've heard from us! Behind the scenes we've been hard at work preparing our new RPG gamemode, and we have some very exciting news to share with you soon! We appreciate your patience, and hope we can hype you up with more details in the very near future!
Today, I'd just like to touch on a few things that have been going on around the server. including some staff team changes, and two brand-new content updates! Let's jump right into it!
Staff Team Changes
Since our last update, a few things have shifted around in our staff team, and as you may have noticed, we've gone over our applications! This resulted in some new faces being added to our team. We will be opening applications back up again soon, however for now please note the following changes:
Newcomer: Penme
Newcomer: TheKingOfDorks
Newcomer: fluffyferrot001
Newcomer: _ImmortalKitten_
Promotion: ItzBlazie (Moderator)...
Happy Holidays!

This is just a quick announcement to let you know our Christmas Sale is now
LIVE!
This is our best discount yet, so here's to a great chance to pickup some of your favourite items!
Until January 6th, get 85% OFF

ALL

store items!
Check:
https://store.fairytalefallout.com
See you next year guys!
~Jesse
NOTE: The Competition is now closed! The winners will be announced shortly...

'Tis the Season!

Christmas on Fairytale Fallout has arrived and is full speed ahead! In this post, I'd like to introduce some of the exciting new changes that have been made to the server, making your experience just a little more joyful this holiday season! Read on below to find out all the details!

Christmas Spawn
Yesterday, our Hub and Survival Spawns have received a massive Christmas Makeover! Thanks to our amazing build team, this year you'll really feel at home while playing on Fairytale Fallout. There are a variety of easter eggs and little figurines hidden around the spawn, so be sure to explore! The Christmas Spawn will stay until the beginning of next year.

Christmas Build Competition
We are launching our very first Build Competition, and wouldn't you know it... It's a Christmas one! Starting today, you'll be able to find a new "Competition" entry in...
Hey guys,
You asked, we delivered! Starting today, you will be able to join the official
Fairytale Fallout Discord Server.
It's open, and ready for you all to join... right now!
Through our Discord, you'll be able to keep in touch with your best Minecraft buddies and the rest of the Fairytale community - even after logging out from the game. Our server is equipped with a variety of different text and voice channels to support your time on the server, and for newcomers there is detailed documentation on everything you'll need in the
#information
channel.
To join the server, please click on the following link:
https://frytale.click/discord
.
Be sure to share this invite with other players so they can join in on the experience! If you just created your Discord account, you'll notice that talk and text is temporarily unavailable. However, don't worry, as this is just one of the measures we've taken to counter spam. Once 5 minutes are up, all...

​
Happy thanksgiving!
... And Hello Black Friday!​
For our very first Black Friday SALE, we're starting out with a bang!
Check out our
store
anytime between
November 23th 9PM - November 28th 11:59PM GMT
...
to take advantage of these stunning deals:
50% OFF All ranks and rank upgrades
25% OFF All cosmetic packs
40% OFF All chat tags
30% OFF All claims block packages
Buy one, get one free on all crate keys packages (3 keys turn into 6, and so on,...)
All discounts run
ON TOP
of our already running 75% OFF Server Launch SALE!
Happy shopping!
~Jesse
Hey everyone!

It's been one heck of a week over here at Fairytale. With over 1000 player joins, and counts reaching as high as almost 200 on our first day - I think we can all conclude a very successful server launch! Before we jump into anything, we'd just like to thank you all for your tremendous support. You've been so super supportive since our launch, and despite our fair share of issues, you're all sticking in there enjoying the community. We truly appreciate it!

I just wanted to update you all really quickly on the topic of stability issues. Over the past few days, we've applied a variety of patches to all of our servers (but Survival in specific), that should significantly decrease lag that you may experience while playing. Though we still expect to see issues every now and then, we now also have the proper tools and monitoring in place in order to counter these as soon as they occur!

During testing, we had to pull some strings behind the scenes, and one of these...